When the Houston Astros won the 2017 World Series, it ended a 52-year drought of championshipless baseball in the Space City. As the players and coaches rejoiced on the field, one particular individual in the stands celebrated as well. That individual was Dr. Jesse Michel.
Dr. Michel serves as the Houston Astros Mental Conditioning Coordinator. In this role, Michel works with players and coaches in creating a mentally tough mindset, while also implementing skills and techniques players can use to get the most out of their performance. These skills are used to block out distractions, stay in the moment, calm the body and mind, just to name a few.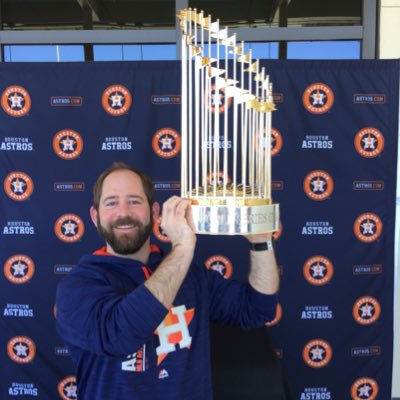 These coaches don't have a locker in clubhouse and they don't wear uniforms, but they're as pivotal as any coach on the staff.
Around the MLB, 26 out of the 30 organizations employ their own sport psychologists or mental skills coach. As the iconic Yogi Berra once said, "baseball is 90% mental and the other half is physical." Although his math might be off, Berra was onto something long before Dr. Michel or any mental skills coaches were around.
The mental side of baseball really made its mark during the 80's as legendary sport psychologists and the late Ken Ravizza began working with the Anaheim Angels. With the Angels, Ravizza and Joe Maddon quickly connected and developed a great relationship. Maddon rose up the ranks and was eventually earned the job as manager of the Tampa Bay Rays in 2005. As Maddon took over him Tampa Bay, he made sure that Ravizza was coming along for the ride. Just three years into Maddon's tenure, the Rays were one of the top teams in baseball and found themselves in the World Series. They eventually lost to the loaded lineup and excellent pitching rotation of the Philadelphia Phillies, but it left the question, "How does a team with a payroll of 43,000,000 (2nd to last behind Miami) not only compete with the powers of the American League, but make an appearance in the World Series?"
One major reason for the emergence of the Rays, was the play of rookie third baseman, Evan Longoria. The emerging star batted .272 with 27 home runs and 85 runs batted in. After working with Ravizza, Longoria has quickly become one of the more vocal advocates for the mental game in baseball and performance. Longoria was even featured in Ravizza's book Heads Up Baseball, providing insight to how the mental game can improve your performance on the field.
As Ravizza continued to work with the Rays, this caught the attention of other MLB organizations and they too began to hire those focused on the mental aspect of performance. Now fast forward to just over 10 years since Ravizza's work with the Rays, nearly every MLB organization has their own professional to focus on the mental game.
So, with the emergence of sport psychologists and mental skills coaches all across the sport landscape, you're probably thinking, "What the heck do they even do?". These psychologists and coaches implements psychological skills such as imagery, breathing techniques, goal setting, mindfulness, anxiety/stress management, as well as other skills to not only improve performance, but to also provide a better quality of life for the athlete. They may work one on one with an athlete or they'll do presentations and workshops with an entire team or organization. In many scenarios, like Dr. Michel's, these coaches will drive and fly from the AAA affiliate to the low A affiliate and all over in between, meeting with players, teams, and coaches to develop mentally strong individuals.
Speaking about Dr. Michel about the importance of the mental game, he highlighted its importance, but doesn't want to disregard the need of talent and mechanics. In order to reach the Big Show, the Los Angeles native said, "[You're either one of two things], you're way more talented than everyone else, [or] you're way more mentally tough than everyone else, if you have both, then you're a perennial All-Star."
With the stigma around mental health becoming less and less day by day, these professionals are becoming more and more important. Now manager of the Chicago Cubs, Maddon explains, "If you said mental skills before, that was an absolute sign that you were weak among the old-school guys. Deep down, there were a lot of guys that wanted to talk to them, but if they were seen talking to them, it would be seen as a sign of weakness and the manager might think less of him." Sean Doolittle of the Washington Nationals thinks the exact opposite. The Nationals closers explains, "It's stupid that there is [a stigma]. I think it's the reverse. I think there's actually strength in asking for help." His teammate Matt Adams agrees.
In an article by the Washington Post, Adams explains an important part of his pregame ritual. With three hours to go before first pitch, Adams knew that it is "time to go get right". Here, the MLB vet meets with Mark Campbell, the Washington Nationals director of mental conditioning. Whether they chat on in the dugout or walk around the field, Chelsea Janes of the Post wrote that this conversation is just as important to Adams as talking with Kevin Long the hitting coach or Adams' defensive coach Bobby Henley. The strong, grizzly looking first baseman says, "This is a huge part of the game. Everybody up here at this level has talent. So it's getting a grip on the mental side of it, and making that side stronger is just going to benefit you in the long run."
Once seen as a sign of weakness, mental coaches and sport psychologists are popping up all around baseball and other sports all over the world. Even Cardinals All-Star first baseman, Paul Goldschmidt said, "Everything you do has a mental aspect. We're always training physically. Running, lifting, hitting all of that. We know the mental part of the game is just as important, so to not train in that way, to me, didn't make sense." Training the mental game, although may not be as sexy as lifting weights or hitting bombs during batting practice, it has proven to make major differences in the performance and lives of baseball players from across the baseball. So the next time you see your favorite player step up to the plate or step off of the mound and take a deep breath, think of the sports psychologists and mental conditioning coaches behind baseball's next big breakthrough.
If you're interested in hearing more about Dr. Jesse Michel and how psychology plays a role in baseball and performance, check out his appearence in Dr. Cindra Kamphoff's High Performance Podcast!