The Minnesota Golden Gophers and head coach Richard Pitino have recently hit a slide, losing four of their last five Big Ten games. After a more than disappointing season last year, the 2018-19 season looked hopeful, with new homegrown talent in freshmen Gabe Kalscheur and Daniel Oturu coming onboard. The team has shown promise, but has a missing component. They lack a true scorer, someone who can do it all. To find that scorer they don't have to look very far.
When it comes to overall basketball skill, Matthew Hurt has it all. His 6'9, 215-pound frame allows him to shoot over his opponents, dominate the glass with ease, and be an absolute force on the defensive end. Hurt is an excellent three-point shooter, which forces defenders to guard him around the perimeter at all times, leading to numerous opportunities for him to blow by defenders and finish at the rim. He also possesses incredible finishing ability at the rim, making acrobatic layups and finishing through contact with without a problem. His post game is impossible to guard, as his fadeaway jumpers over both shoulders look flawless and his height allows him to get any shot he wants. Hurt and his wide set of skills coming to Minnesota would almost certainly change the Gophers from a fringe top-25 team to a potential lock as a top-4 seed in the 2020 Big Dance. While that seems like a large leap, that is just how good Matthew Hurt is. His skill set would fit right into a Gopher lineup that will be losing a big piece in Jordan Murphy. If there are any doubters about this, Hurt has the numbers to prove it.
Hurt has been nothing short of amazing in his career at Rochester John Marshall High School, leading him to receive not only the number one prospect rating in all of Minnesota, but also as a top ten talent in the class of 2019. In his senior campaign Hurt has been outstanding, averaging 33.9 points and 15.1 rebounds a game. Along with leading the entire state in points, he also ranks near the top in rebounds, assists, steals, and blocks. While his domination in high school basketball is impressive, Hurt has also been outstanding for his AAU team, D1 Minnesota, which is one of the premier AAU programs in the entire country.
In last year's Adidas Gauntlet, which is an elite showcase for AAU teams across the country, Hurt was exceptional. In 11 games, Hurt and D1 Minnesota went 10-1. Overall, the star senior averaged 17 points and six rebounds per game, all while putting up absurd shooting numbers. In the 11 games played, the lanky star shot 58.4% from the field and an unreal 51.8% from three. This performance in the Adidas Gauntlet and his overall great play with D1 Minnesota has led to Hurt being selected to the McDonald's All-American game, which will be played this spring. This is one of the biggest honors a high school player can receive, as only the top-24 players in the country get to participate. Hurt has also won a gold medal with Team USA at the 2018 FIBA Basketball Championships and most recently was named a participant in this year's Nike Hoops Summit.
All of these qualities and big numbers have led to a lot of national attention for the 6'9 forward, as 247 sports has him ranked the 8th overall senior in all of the country as well as the 2nd overall at the power forward position. Sports analysts also have very high praise for Hurt. Brian Snow, a National Basketball Analyst, had some high praise for the senior power forward. "An extremely skilled forward, he shines when asked to stretch the floor and create some off the dribble. One of the best shooters in the class. Has the skill level and ability to put pressure on the defense out to 24 feet. Also can score from the mid-post, and is a good passer." Snow would also call Hurt "One of the tougher matchups in the class." He projected Hurt as a future first-round pick and compared him to NBA player Tobias Harris, who is a very solid player (Snow, 2018).
This praise and high level of play has led to nearly every major basketball program in the country to recruit Hurt to help their school, which isn't a great sign for a Minnesota program that has one tournament win since 1997. Hurt has remained nearly silent on his recruitment, but many believe that Duke, Kentucky, Kansas, and Minnesota are the four to watch. While the odds are stacked against them, having any chance at all at the Minnesota native is huge for Gophers, as he is still uncommitted and could be persuaded to join the maroon and gold.
But the big question still remains: "Why should Matthew Hurt play for the Gophers when the likes of Duke, Kansas, and Kentucky offer more buzz and national recognition?" My answer? Join the fellow Minnesotans and help bring Minnesota basketball back to the forefront of the Big Ten. If Hurt joined the Gophers and paired with the other hometown kids in Amir Coffey, Gabe Kalscheur, Daniel Oturu, Jarvis Omersa, and perhaps most importantly his brother, Michael Hurt, the entire state would be ready for a wild ride. A starting lineup composed of Isaiah Washington, Kalscheur, Coffey, Hurt, and Oturu would be a force to be reckoned with in Big Ten and nationally.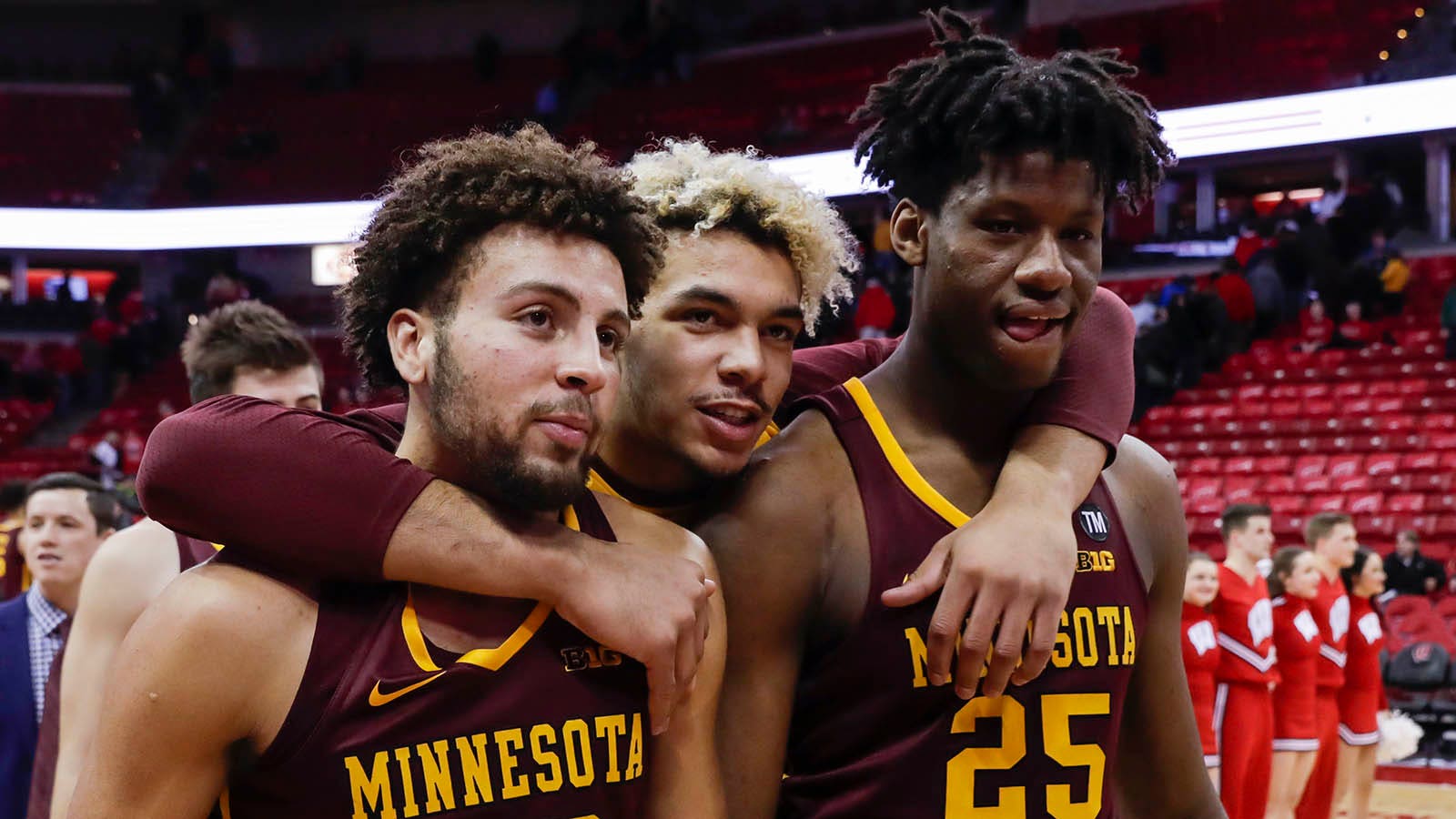 Washington has shown the ability to be a good distributor on offense as he leads the team in assists per minutes played and has recently found his ability to score. Kalscheur has been a very pleasant surprise to the team and fans as he has provided a great 3&D presence on the court, hitting on 40% of his threes. As well as splashing shots from deep, the freshman has been very active on the defensive end, becoming one of the more reliable players on the team. Coffey is the veteran of the bunch and barring a surprise, he will be back to lead the Gophers for his senior season. Coffey is an excellent playmaker, allowing for great position flexibility. His overall skill set has been huge for Minnesota this year and his well-rounded game has led to a busy stat line in his junior year, as he is averaging 15.3 points to go along with three rebounds and three assists per game. Oturu, like Kalscheur, has been stellar in his first year with the Gophers. He isn't averaging any gaudy numbers, but his 10.8 points and 7.4 rebounds are impressive for a young big man. He has really stepped up his game in Big Ten play as over his last five games. The addition of Matthew Hurt would not only add some zest scoring ability to the lineup, but his presence to the young group would only make everyone better.
People tend to forget about the two key pieces joining the Gophers next year, as they will add depth and more talent. They will finally get Pittsburgh transfer Marcus Carr at the point guard position, who will make an immediate impact on the Gopher's spotty ball handler situation. As a freshman with Pitt, Carr averaged a respectable 10 points and four assists per game. They also will bring in 4-star shooting guard Tre Williams out of Wasatch Academy in Mount Pleasant, Utah. As the fourth-best prospect in Utah and a near top-100 player, Williams will provide the Gophers with some much-needed scoring and depth for the secondary unit that has been disappointing in past seasons.
Adding a power forward of Hurt's caliber would take this lineup from good to excellent. A stretch four that will demand double teams will create more scoring opportunities for everyone on the court with him. The variety of playmaking guards would compliment Hurt's abilities as well, as the senior likes to run the floor and get out into transition. The frontcourt combination of Daniel Oturu and Hurt would be a matchup nightmare for any team in the country and would certainly be a 1-2 punch that would be lethal.
The Gophers have a lot to look forward to next year as they return a lot of contributors from this year's team. However, an addition of Matthew Hurt would give the Gophers their highest rated recruit since Kris Humphries in 2003. If Hurt decides to stay and represent his home state, it would not only greatly benefit the team, but it would make Matthew Hurt an instant Minnesota sports legend. While it may not be likely, the Minnesota Gopher faithful should start the campaign to persuade Hurt to get the Rochester native to stay home.